This mostly excellent DVD features several scenes that rank among the hottest POV scenes I've watched. Unlike countless other POV movies where they fuck up the entire concept by making the guys (or the partially disembodied cocks as it is in this type of porn) talk or moan loudly and excessively, and in some cases even occasionally insert camera angles that are anything but point of view, Multiple POV does just about everything right. Consistent POV camera angles and completely silent guys/cocks ensures that the lovely ladies are in focus all the time with no annoying distractions.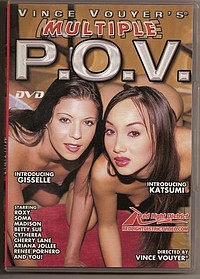 Five of the seven scenes, and in my opinion by far the best five, feature two girls, and they all do a fantastic and extremely sexy job sharing a cock with their "team mate". Roxy Jezel and Soma are unbelievably sexy and teasing in the first scene. I usually just about crave anal sex in guy/girl scenes these days to keep my attention, but this one has managed to keep my attention quite a few times over the last couple of years without it. Roxy and Soma also return for a five minute blowjob scene later on the DVD. Short, but also seriously hot. The three other standout scenes on this DVD deserve just as much praise. Scene 2 with Ariana Jollee and Renee Pornero features both anal sex and several squirting orgasms, scene 4 with Cytherea and Cherry Lane is a bit more "innocent" and teasing (and back to no anal sex), and the two girls (most of you probably already know at least Cytherea) are amazing together. Scene 5 with Katsumi and Gisselle, arguably the overall hottest scene on the DVD, is a return to anal sex from both girls and plenty of filthy, teasing talk.
The two remaining one-on-one scenes (3 and 7) aren't really anywhere close to the high standards set by the rest of the scenes. But five out of seven certainly ain't half bad, particularly when those five are as amazing as they are here.
Starring: Cytherea, Giselle, Roxy Jezel, Katsuni, Madison Moore, Renee Pornero, Soma, Ariana Jollee, Cherry Lane