POV porn is great. Not only are you placed in the "driver's seat", but you (usually) also entirely avoid the fear of the camera guy suddenly giving you a view of the male performer(s) you really didn't want to see. So basically it's a win/win situation. They've got six MILF POV DVDs at AEBN (that's probably the entire series), and I picked number three for this review mainly because of the lovely cover lady Vicky Vette, one of my favourite milfs (and arguably one of the hottest in the business), though I was also heavily leaning towards number two in the series with Misty Mendez. Anyway, if this review sparks you interest in the MILF POV series (despite the modest score), go knock yourself out with any or all of them at AEBN.
Portraits and Porn DVD Reviews: Pornstars on Sensual Writer
Vicky Vette's performance as a college teacher giving an unusually thorough private lesson to one of her lucky students is very hot. But that's pretty much what I've come to expect from this lady.
Sexy verbal teasing, blowjob, POV sex in several positions. The only thing that's really missing is anal, but fortunately AEBN makes up for the lack of that in many of the other 120+ Vicky Vette movies they have in their archives. I don't think I'm familiar with any of the other four ladies on the DVD, but their performances were decent, though probably made to look better thanks to the POV perspective. I suspect I would have found those four scenes rather bland if they had been filmed with ordinary camera use, and additionally none of those four women were anywhere near as attractive as Vicky Vette (though I guess that would have been quite an accomplishment, particularly on a milf/mature DVD. Hope I didn't offend anyone there, but with relatively few exceptions I do still tend to favor pornstars younger than say 30, which is to say the same age as me).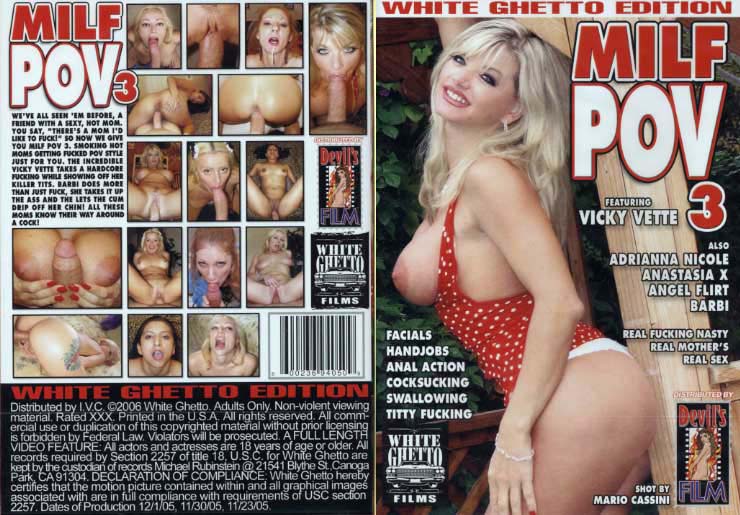 One great scene, four that I really only found worth watching because… well, it's POV porn with Milfs. Average that out and I probably can't justify a score higher than 80/100.
My suggestion? Combine Vicky Vette's scene with Misty Mendez' scene on MILF POV 2 and you've got just short of an hour of really hot milf POV video. And I'm sure there's gotta be at least a few other great scenes spread out over the other DVDs in the series. And that's not even taking into account that you might have an entirely different opinion of what's hot and sexy when it comes to milf/mature porn. Starring: Vicky Vette, Adrianna Nicole, Anastasia X, Angel Flirt.