Where Titanime covers a broad range of hentai subcategories and Bondanime delivers the most extreme and rough hentai videos, Lestai gives you nearly 150 hentai DVDs with one or more lesbian scenes.
There is some crossover between the three sites, probably because you'll be hard pressed to find a hentai DVD covering solely lesbian toon sex, but based on my sample comparisons (didn't feel like cross checking for more than a hundred DVDs on three sites, sorry) it looks like a fair amount are only available at Lestai. In any case, at least you know you can expect one or several lesbian scenes with the movies on this site, so if nothing else it makes it easier to find videos in this (in my experience) not too common hentai category.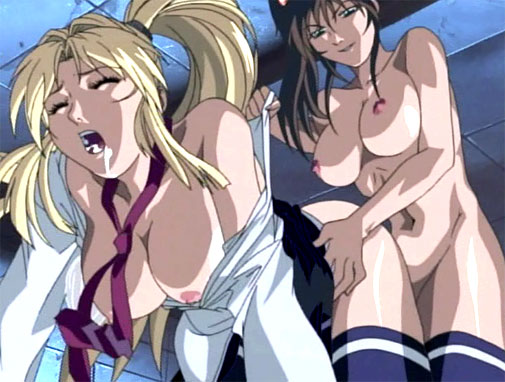 The update schedule appears consistent at two new DVDs a week, for each of the three sites (if you don't already know it it's worth noting though, that in the hentai world a DVD typically means 25-40 minutes of videos, not a full 90-120 minutes). Two other sites included in the price, although given their extreme similarities (hell, I've barely even bothered to change more than a few lines of text between these three reviews, this line included) you could easily argue that Lestai and Bondanime could just have been added as niche categories on Titanime. Pretty good video quality. The resolution is a bit on the low side, but the bitrate more or less makes up for that. Clean and simple site interface, and with the DVD cover and a description shown for all movies. Check the cons below though.
Back to reality: Lesbians from Japan
There seems to be no search or sorting features for locating particular movies, they haven't even bothered sorting the long two page list alphabetically. On the other hand, unless you're a hentai expert the preferred method for locating movies you want to download is probably just leisurely browsing the archives rather than heading for specific titles. It could have been done better though. While I did complain ever so slightly about video resolution above, the files are still so large (typically 200-300+ Mb) that you shouldn't bother with these sites unless you're on a decent broadband connection. An option for segmented downloads may have helped, but as these movies are full DVD episodes you would need to download all of them anyway, otherwise it would be a bit of a waste. A lower quality option might have come in handy, but the files would probably still be too large to cater to dialup users. Let's face it, video sites require broadband