This review is a bit out of the ordinary (and a tad long to boot, scroll down to the bottom if you want some screenshots rather than just large blocks of text), and so is the product at hand, which is also why the contents of the info box on the left is a bit different from the usual photo/video stuff. 3D Sex Villa is a virtual sex game or simulator, placing computer generated "people" with very lifelike body language and responses (but still looking distinctly artificial, we'll probably have to wait another 5-10 for realism in this area) in 3D enviroments where you can interact with them and make them interact (alright, let's just go ahead and translate that interact thing to "fuck") with each other through a number of different sex toys, and preset poses/positions.
Aside from the large assortment of toys and sexual positions, there's also ample opportunity to dress up the virtual ladies in a bunch of sexy outfits, as well as modify or "enhance" various parts of their anatomy. 3D Sex Villa is a very impressive and (at least intially) an entertaining and interesting piece of software, and it's been updated many times with new content, new features, graphical improvement and improvements to character behaviour/response/body language. While the entertainment value may wear thin after a while, it's at least an interesting look at what the not too distant future might hold in the area of virtual sex entertaiment. (Read the full review below).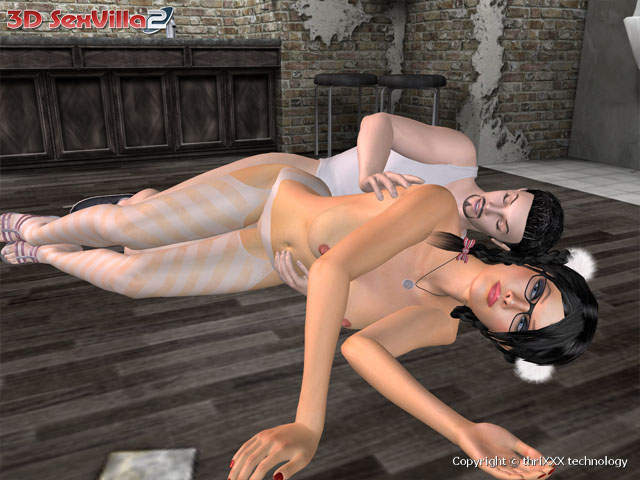 We've been thinking about doing this review for a while, but since 3D Sex Villa is also such a markedly different product from what I usually review here, I wasn't really too keen on adding a separate "Games" category – especially since it's quite likely I won't be reviewing another interactive sex game again any time soon, or at all. Product like these are still very uncommon, or at least they are here in the West, sex games with varying degrees of user activity are quite common in Japan, usually (probably solely) featuring hentai characters. Many of these games are available for download in the excellent HentaiKey network. If you're interested in those, I recommend you read that particular review.
For now, let's move on to the product at hand, 3D Sex Villa.
First a minor technical introduction. 3D Sex Villa is a standalone application for Windows (sorry Mac users), much like regular computer games you buy in stores. The installer program you download (which also serves as a very feature limited demo until you register) is very small in size, and additional needed data is downloaded automatically within the game the first time it's needed (the full final install will take up less than a hundred Megabyte). When you launch the game you will be prompted for your login name and password, and you can additionally change some system related settings like screen resolution and refresh rate.
3D Sex Villa is additionally updated every few months, and while that doesn't sound like much when compared to weekly or daily content updates on porn sites, don't forget we aren't talking about videos and photos here, but designing and implementing new small and large features in a software package. This review is based on version 27, and to name a few of the new things we got in this latest version, there's a new voice pack ("70+ new phrases and moans" – with matching facial and body animations), new gameplay features like involved reactions from the girls (they will tell you if they enjoy something, or if they don't), excitement meters (work her – or them – up to those orgasms), customizable hair and eye colors (there were already a bunch of other things to customize, including breast size and shape), new location (or room as they call it here), a new girl, new clothing set and a sybian dildo machine. You can check out the details of the last three updates on the tour page, and the complete list back to version 1 can be found in the member section of the site (which you won't actually be using much of course, since the game is a standalone application).
And now you've already gotten a glimpse of what to expect, let's move on to the actual game – or virtual sex simulator, which might be a more appropriate term as you have full access to everything right off the bat, no bothersome and frustrating tests or mini-games to work through here before you get to the good stuff. The first thing you do is choose two girls (you can then "go to work" on them one by one with the large assortment of toys or put them in all sorts of lesbian positions, plenty of strapon action included) or a girl and a guy for some good old fashioned fucking (and some initial toy play as well if you like).
If you're only interested in playing around with one girl, no problem, you can stick to just having your main character active and shown. At the moment there are nine different female characters to choose from, covering several ethnicities and body types, and three male characters.
After selecting your characters you pick a room for the action to take place in, in version 27 there are nine rooms available, including a bedroom, living room, locker room (so far the only one with an optional little story line attached), a fetish club, a beach, an office and three others. Once everything is loaded up it's time to get started on the fun. The camera can be rotated and moved freely around (and there's even a first person camera which can look pretty cool during two person action), and once you've gotten the hang of that it's time to pull out the toys. And there are quite a lot of those. Breast, thighs, stomach and other body parts can be carressed with a disembodied hand, bottoms can be spanked with whips (goes well with the fetish room and some of the more kinky outfits), and mouths, pussies and assholes can be fucked with dildos, buttplugs and vibrators of all types. And all along the virtual babe will react quite naturally with well animated body language – including facial features like mouth and eyes – and in this latest version with plenty of verbal response as well.
Once you feel it's time to move on from the solo play, you activate the second character (girl or guy) by choosing one of the many poses from the simple menu system. There are more than 20 of them, ranging from several sitting and standing positions, to doggy style, missionary, blowjobs and tit fucking. If you've got two girls in the scene, one of them will be sporting a strapon and basically use the same positions like you get with a girl/guy pairing. There are a couple of lesbian specific positions as well though. Toys as well as one-on-one action can either be handled manually by pulling the mouse in the appropriate direction, or alternatively you can use the auto feature with several different speeds. A click on a button will additionally switch between vaginal and anal sex in many positions.
All along the characters will become increasingly excited and you'll be able to tell this easily from their body language and moans and comments, as well as from the newly implemented pleasure bars that slowly work up to climax. The girls (I tend to go for the girl/girl option – I prefer two virtual hotties in one scene) will eventually express their orgasms quite vividly, and slowly dwindle down to a relaxed state, ready to start over again. This system – changing body language and verbal responses – has become a lot more lifelike and detailed in this latest version of 3D Sex Villa.
Aside from all the toys and sex positions to play around with, there's no shortage of sexy outfits as well. From full outfits like a business suit or a Frech maid's uniform, even a full army uniform, over latex gear, sexy lingerie, long boots and gloves to a variety of stockings, masks and even a ball gag.
A few other features are worthy of mention as well – like the virtual cock you can whip out at any time and, with the help of a neat little targeting reticule, cover the ladies in sperm. And if they get too messy there's a sponge for cleaning them up as well. I'm not kidding.
Deep Pink is a closeup pussy cam that some might find interesting, and in this view the ladies are additionally gifted with the ability to squirt. Some of the more interesting toys (or tools as they are referred to) include a fucking machine (taking a cue from one of my favourite toy sites I imagine – Fucking Machines) and now the sybian as well. If you're feeling slightly sadistic you can also use a candle for some hot wax fun – perhaps after using the whip to spank her latex clad behind. And with the latest version the girls also react appropriately to pain and not just pleasure.
There's also a photo studio with an interactive "communication" system that helps you make the girl get into just the right pose for a snapshot. There is a list of classic photo poses (which can be used on the other rooms as well), but you can also turn the photo studio into a hardcore porn studio if you prefer that. To go with the photo studio – or any other scene – 3D Sex Villa features a one-click snapshot system that automatically saves your pictures to a photoalbum, complete with optional artistic black and white and color desaturate effect filters.
So as you've probably gathered by now I'm quite enthusiastic about 3D Sex Villa, but while I've had quite a lot of fun with it and definately think it's worth checking out (I would like to say "try the demo", and you probably should, but it's extremely limited and doesn't really give a particularly good look at the variety that's one of the strong points here), I'll also admit that as a tech head and aspiring 3D hobby artist (the latter has been a bit of a pipe dream so far, but with all the money I've invested in 3D software recently, I better get my ass in gear) I think I'm probably more attracted to the basic idea and future potential of virtual, simulated sex (in one form or the other) than the actual package at hand here.
3D Sex Villa is impressive though, no argument there, and while you'll probably still have to wait 5-10 years for lifelike photorealistic "people" and enviroments in a virtual sex simulator (hell, even the latest and greatest computer games developed on multi-million dollar budgets and pushing the latest hardware to its limits isn't quite there yet) this still looks pretty neat, although realistically speaking the target audience is probably most likely to be those of us who like hentai, erotic comics etc. While the characters may still have quite a while to go before they look like real people, I'm particularly impressed by what they've managed to do with animation on body language and in general making the girls react and move quite naturally, if perhaps a bit limited in range and variation.
There are, as far as I know, no other products of this kind as advanced as 3D Sex Villa, although Hentai 3D (outgoing link) and Virtually Jenna are based on the same engine.
Virtually Jenna contains the exact same content as 3D Sex Villa (but is an update or two behind as far as I know, they are just licensing the basic engine), adds a few characters (most notably a virtual version of Jenna Jameson) and unfortunately lacks the price option I personally thought was the best overall deal for 3D Sex Villa (and chose myself a few months back) – $58.95 for a full year, followed by $12.95 every three months.
Hentai 3D is from the people behind 3D Sex Villa, and aside from using characters with a fairly distinct hentai look, some of the rooms are different as well. There's a tentacle room for instance, which shouldn't come as much of a surprise to hentai fans. Overall this game seems to offer less content than 3D Sex Villa though – and appears to be an update behind as well. I'm basing this on the demo and the website though, I haven't tried out the full version of Hentai 3D. So a one of kind site – or at least a one of a kind game engine – and very likely a one of a kind review here at Mike's Porn Site Reviews as well. I've had a lot of fun with 3D Sex Villa, and I'm very much looking forward to seeing what the near future has in store for us, both additional updates and improvements to this package, as well as virtual, interactive sex in general.
(Screenshots, which do not actually do 3D Sex Villa much justice, as it's the animation and character responses that help you look past the cartoony visuals).
Visit Website: www.3d-sexgames.com