We've all been there. You're out for a pleasant stroll in the countryside when you get that familiar tingle in the nether regions (not that one), and you know that you just have to go. So it's off to find the nearest bush or tree and time for some sweet relief. And if you're with a girl who's heeding the call of nature, you can't help but feel a shiver of excitement as you catch a glimpse of her with her panties round her ankles letting loose the warm stream of pee. Kudos to the sneaky guys at Piss Hunters, who've captured a veritable truckload of these golden moments on film.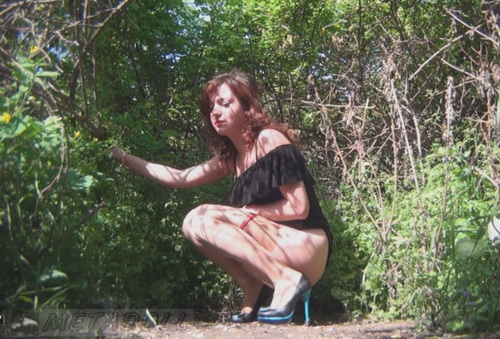 The site has over 100 contributors, meaning content is very varied in style and quality. Although the site claims to offer over 90,000 images, vidcaps are included in this total, so there is in fact nearer half of that number in terms of proper photos. Some of these look pretty mediocre and aren't at an especially great resolution, while some go up to 1000 pixels or more and look great for voyeur shots. If you're willing to wade through the material, you're certain to find something that floats your boat. The earliest updates included lots of posed studio shoots, but they've sensibly discontinued that as the voyeuristic angle is the real selling point here.
There aren't as many contributors to the video section, but it's still quite a mixed collection. About half of the clips are shot outdoors, mainly in wooded locations but sometimes in secluded streets or car parks. It's difficult to say how much of this is genuine, in truth. A lot of it certainly looks real enough, but on occasion it looks a little too convenient that the girl happens to squat down next to the fixed camera. The toilet cam stuff which constitutes the other half of the collection is more obviously authentic.
Watersports from Thailand: Pee Asians Review
Although there are a lot of them, the clips are somewhat inevitably on the short side – there's only so long a girl needs to relieve herself of course. Resolution and picture sharpness are also inconsistent, but that's the price you pay for voyeur content. A sizeable chunk of the scenes are in high definition, which is pretty impressive really, but don't expect crystal-clear footage.
As for the site itself, the limitations of the entirely functional design are compensated for by the great search function (similar to the one used on sister site Beach Hunters), which allows users to filter the content by contributor or particular types of girl or action. There is a forum, but it doesn't seem especially active. Overall, although the content on Piss Hunters is a mixed bag, there is a lot of great stuff if you like taking a peek at girls taking a pee.
So sorry the tell, but pisshunters.com is closed with content offline.