Today, let's talk about adult actresses also called 'pornstars' because they are famous. Not all of them become household names, but some have amazing, dirty acting talent and a body to die for. Here are the five top names that have shaped sex movies over the past years. Read all about the best pornstars and their movies.
1. Bree Olson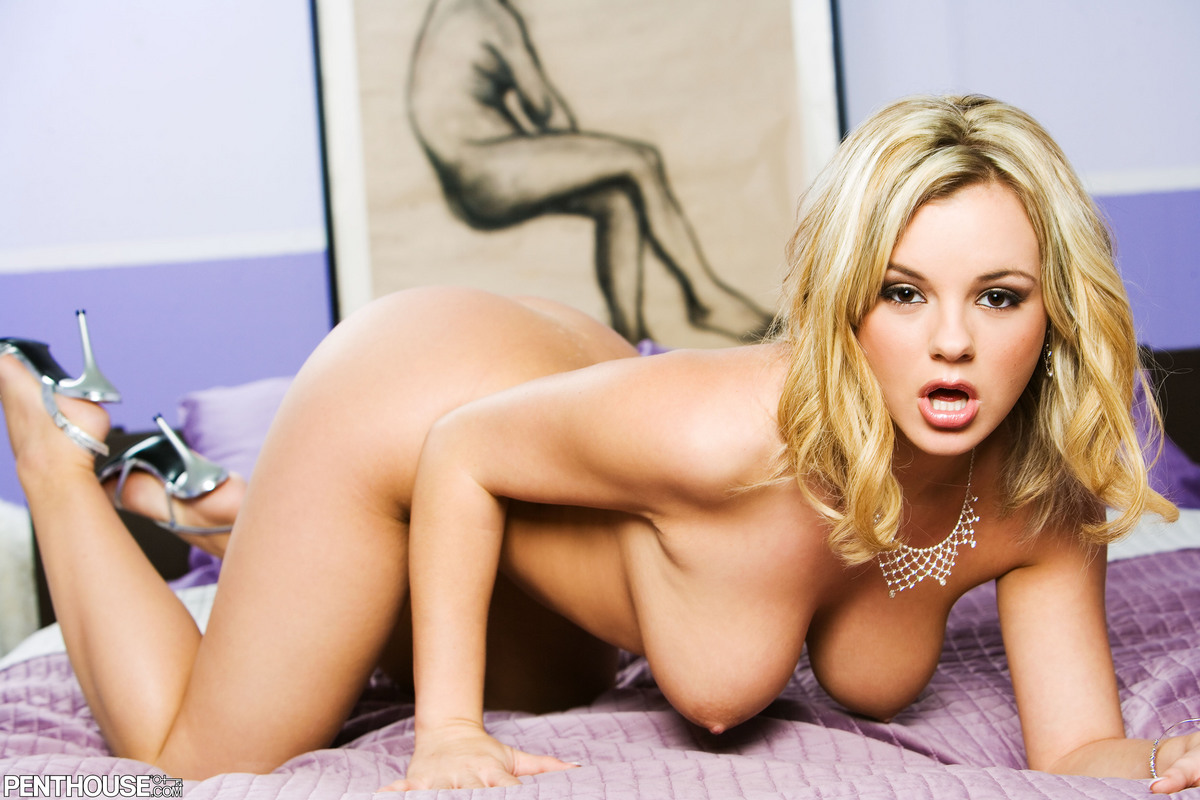 [one_half]
The smashing hit DVD Interactive Sex with Bree Olson made her a perfect candidate for today's pornstar profile. Like Sasha Grey, another sexy hardcore babe written about later, Bree Olson kicked off her rise to pornstar fame in 2006, at the tender age of 20. The two could hardly look more different though. Sasha Grey is a slender, sexy brunette – Bree Olson is a cute American, curvy girl-next-door blonde – at least if the blonde girl living next door to you happens to be extraordinarily pretty and well shaped – that is kind of exceptional in America.
Aside from her amazing body – and her fantastic, natural D-cup tits in particular – Bree has an innocent look and a cute alluring voice, all fabulously highlighted on Interactive Sex with Bree Olson DVD. Fortunately, that innocence is very much deceptive. Once the action starts, Bree certainly doesn't hold back. She is taking cocks of all sizes up the ass in so far 37 of the 119 movies she's been featured in (and more scenes than that considering you get six anal scenes on the Interactive Sex DVD). Certainly not a bad start.
Images: Gallery from Penthouse Magazine[/one_half]
[one_half_last]
If you're looking for Bree Olson movies, go to the pay-per-view site AEBN, as they have many of her movies archived. They don't have that fantastic Interactive Sex with Bree Olson DVD though – for that you'll currently have to go with a regular membership to the small site network comprised of the three one studio sites, ZTOD, Third Movies and the latest Black Ice Pass. Aside from being an overall excellent deal with over 530 downloadable DVDs, ZTOD currently has 23 scenes with Bree Olson (that's including behind the scenes stuff though), Third Movies has seven and Black Ice Pass three. Hardcore DVD site VideoBox falls a tad short with only 14 Bree Olson scenes – nine without the behind the scenes content. What they have is pretty good though.
[icon style="info"]Profile on IMDB: Actress Bree Olson
Other recommended Bree Olson entry points include her scenes in Big Wet Asses 10 and Bore My Asshole (Bree plus great anal scenes with three other favorite girls: Rebecca Linares, Dana DeArmond and Bobbi Starr) and her group scene together with Amy Reid and two guys in Dreamgirlz. But look through her movies at any of the sites mentioned above and you'll find many other Bree Olson scenes that can match or beat the ones I just suggested here.[/one_half_last]
2. Rebeca Linares
Who's the hottest Latina pornstar? Well, many votes have been going to the gorgeous Rebeca Linares since 2005. Rebeca started her acting career with a handful of DVD releases back in 2005, and since then she has been a rather busy girl, starring in over 200 DVDs.
Like most favorite hardcore pornstars Rebeca is up for almost anything, which means there's no shortage of anal and double penetration scenes featuring this lovely Spanish fly. But for those of you preferring old fashioned cock in pussy sex, don't worry there's still a huge selection of Linares videos matching those requirements. She has even done a few handfuls of lesbian scenes, though hardcore guy/girl is obviously her main game.
As with most other pornstars, the huge pay-per-view site AEBN is the most plentiful source of Rebeca Linares videos, clocking in at currently 174 DVDs featuring one or several scenes with the Spanish babe. Looking to the smaller sites with regular membership options, you won't go entirely empty handed either, though obviously they don't come anywhere close to AEBN. VideoBox currently has eleven scenes with Rebeca Linares, while the excellent ZTOD/Third Movies package deal has a combined and very respectable 25 scenes (38 when counting bonus scenes) – and a number of Rebeca's best scenes are arguably those she has done for those two studios, Zero Tolerance and 3rd Degree Films. An excellent example is the DVD Ready Wet Go 4, and other ZTOD and Third Movies scenes like Goo 4 Two 4 (together with Jenna Haze), New Trix 4, Blow Me Sandwich 11 and Chicks & Salsa 4. Those movies are just from two studios – visit AEBN (direct link to Rebecca's movies here) and check out what Rebeca Linares has done for the other 25+ studios she has worked for.
Wikipedia about: Spanish Actress Rebeca Linares
3. Sophie Moone
This blonde Hungarian babe has been sitting at the top of the model top 10 list at Club Sandy and Pix & Video for very long and no wonder really, she's hot as hell. Overall one of the favouring brunettes, but Sophie Moone definitely deserves a spot near the top.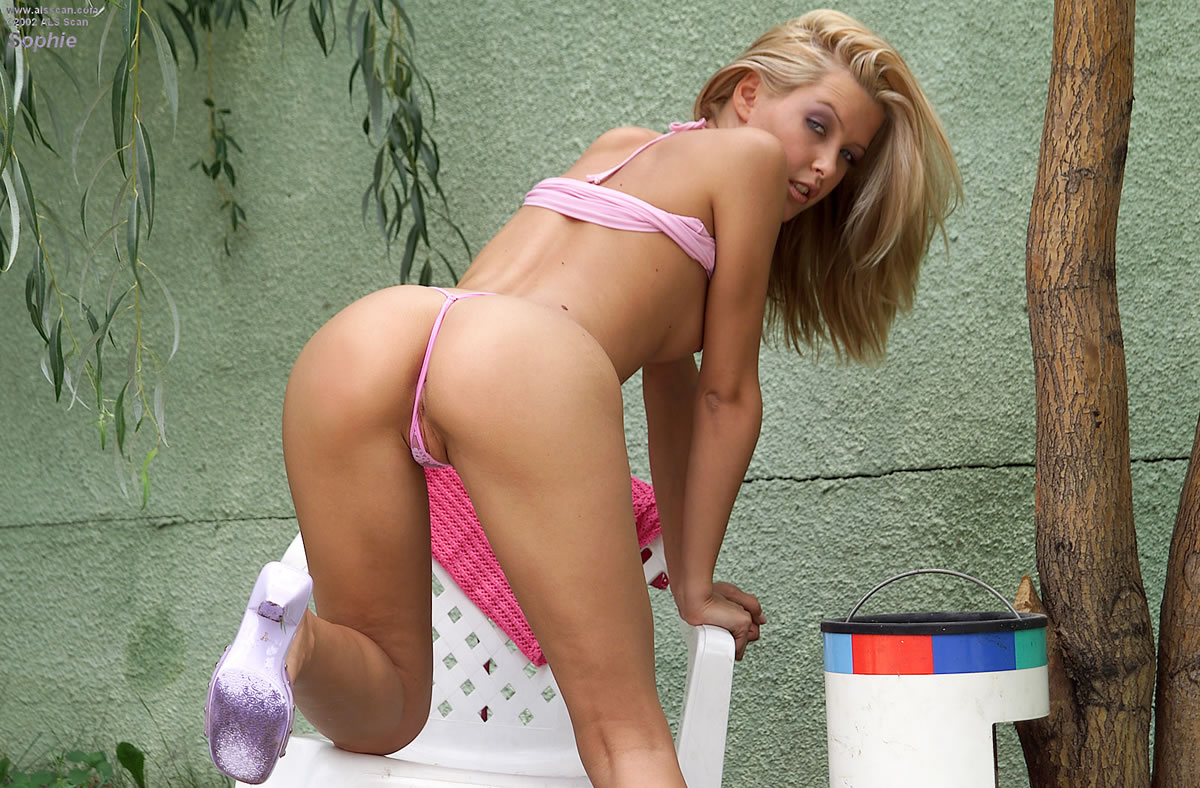 Sophie Moone has been working as a model since 2001, and aside from her own official site (launched in late 2005), Club Sandy and Pix & Video (run by 21Sextury) are probably the two best online sources for her always incredibly hot solo and lesbian videos and photo sets. At Club Sandy no other girl but Sandy herself is starring in more videos and pictorials than Sophie and she has been a regularly featured model ever since the two sites launched in December 2003. Here is a direct link to the list of Sophie's videos and pictorials at Club Sandy – her Pix & Video content is also listed further down the page.
Another great source of older Sophie Moone content is 1 By Day, where you can find 42 videos and photo sets in their old archives section, dating from 2002 to 2005. Twistys is not a bad place either, for photo content at least, with 39 photo sets and three masturbation videos, though only a very small portion of it exclusive to that site. Those number counts may have increased in the meantime.
While Sophie is sticking to lesbian and solo toy fun, she did do a few hardcore guy/girl scenes early in her career. You can find one of those videos at Club Sandy (a pretty hot anal scene from early 2004), two at 1 By Day and a few photosets at Twistys. Additionally this blonde babe doesn't mind taking part in a threesome with another girl and guy once in a while, and while she keeps her attention on the girl, the end result nevertheless still tends to be pretty damn hot. You can find a few of those scenes at her official site and Pix & Video.
Official Website: Sweet Sophie Moon
4. Sasha Grey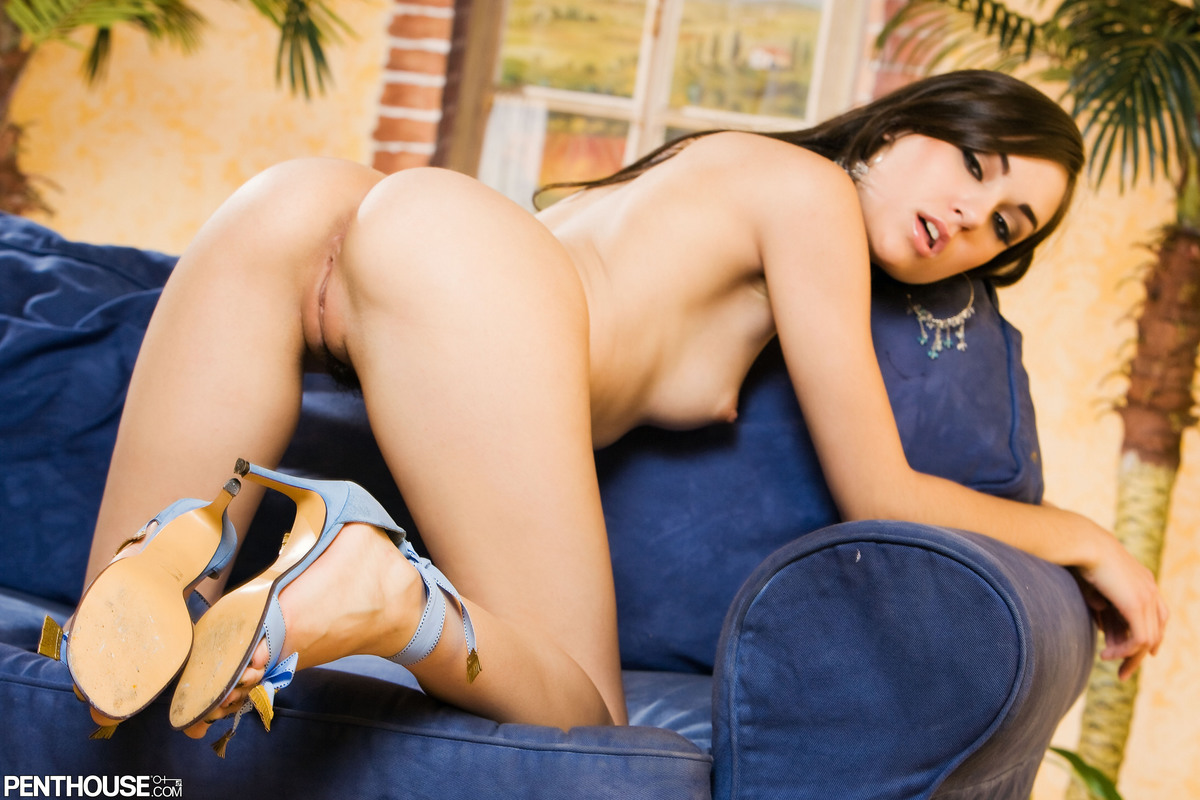 After turning 20 in 2008 Sasha Grey – a sexy, slender brunette – became without a doubt one of the most popular new porn starlets, and in less than two years she already appeared in around hundred hardcore movies from major studios like Evil Angel, Zero Tolerance, Hustler, Red Light District and others. Sasha doesn't shy away from anything: anal, double penetration, gangbangs, lesbian, squirting – even occasionally some simple old fashioned, one-on-one, cock-in-pussy sex or "innocent" solo masturbation. And if the first three categories didn't already hint at it, watching a few of her videos quickly confirms that this babe tends to love it rough. Sasha Grey is no quiet, timid girl getting thrown around by the guys in group scenes – she knows what she wants and she doesn't mind asking, or screaming, for it. In fact her only "flaw" is that she's often a bit too vocal – but the rest of her performance, and her looks more than make up for that.
Penthouse Mag: Image gallery on couch
So where do you go if you want to watch Sasha Grey in action? Well, unfortunately the selection at the DVD download sites is somewhat limited at, but VideoBox does have nine scenes (eleven including behind the scenes features) and VideosZ seven – a few of them overlapping between the two sites. Few Sasha Grey videos may be found in the Evil Angel network including a hardcore lesbian scene with another favorite girl: Dana DeArmond. As the case usually is with hardcore pornstars, the most abundant source of movies is the huge pay-per-view/download site AEBN. They currently have 93 of the DVDs where she's starred in one or more scenes – which is damn near the full collection. Pay-per-view is not quite a value-for-money deal on par with the DVD download sites if you're just looking for the most hardcore bang for the buck – but in specific cases like this where the content at the smaller DVD download sites is somewhat limited, it might be worth a look. And obviously you only pay for what you watch (more accurately you buy minute packages, or individual downloads or rentals), so pay-per-view could end up being cheaper than a regular site membership if you're just looking for a few hours of video entertainment a month.
Related post: Sensual nudes with pornstars on Digital Desire.
Fortunately particularly anal sex appears to be among this lady's favorite hobbies (still hoping for, and expecting, more DP movies in the future, that collection is unfortunately still rather limited), so there's not exactly a shortage of recommendable movies. A few favourites include her four scene, 150 minutes marathon performance in Gang Bang 5 Part 2 (and part 1 comes heavily recommended as well by the way, it stars the almost always amazing Naomi) as well as Teenage Heartbreakers, Girl Next Door 2 (available at VideoBox as well as AEBN) and Blow Me Sandwich 11, the last of them featuring a really hot POV blowjob scene putting Sasha together with Maya Hills.
5. Vicky Vette
Who's the hottest MILF? Well, that's a matter of opinion of course. Many would go with Vicky Vette. In her mid 40ies this busty blonde of Norwegian origin still looks utterly amazing. She would look fantastic for for a 30 year old – and in fact she didn't actually start her very succesful career as a pornstar until 2003, which must be somewhat unusual in that business. Vicky Vette has been quite busy in those years though, as she's currently featured on no less than 158 DVDs at pay-per-view site AEBN, and you can find her in a quite impressive 30 scenes at VideoBox as well, if DVD download sites is more your thing.
Aside from her amazing good looks, there are obviously a few other important factors contributing to making this sexy babe one of the most favourite MILFs – anal, lots of anal. Occasionally double penetration including one or two full blown gangbangs over the course of her career. Basically, all the ingredients for a quality hardcore pornstar. Not that there's anything wrong with a good basic blowjob or a bit of cock-in-pussy sex of course – but you do sort of tend to get those thrown in "for free" in most anal and DP scenes. Admittedly her blowjobs in particular can certainly hold the attention of every die hard anal fan.
Not surprisingly, Vicky Vette has done so many really hot scenes that it's hard to pick just a select few favourites or standouts, but if I had to give it a shot, probably have to go with her 41 minute double penetration gangbang on Mommy Gangbang 1 (available at both VideoBox and AEBN), her unbelievably sexy point of view scene on MILF POV 3 (AEBN) and her shiny, oiled up performance on Big Wet Asses 3 Iron Sides (VideoBox, AEBN). If interested in more of her DP scenes, taking a look at Deep Cheeks 9 (one of Vicky Vette's early movies from 2003), Double Parked 16 and Incumming 2 – all available at AEBN.
6. Nella
[one_half]Since joining website Sapphic Erotica for the first time – around December 2005 – Nella (or Jackie as they call her at Sapphic Erotica) has been one absolute favorite European babe when it comes to lesbian sex. There are no fake moans and orgasms or uninspired performances here – Nella very obviously loves girls, and judging by how utterly and completely she gives herself into the sex, you could swear that this lovely lady often entirely forgets that there's actually a camera present in the room, and she isn't just at home having sex with her girlfriend or lover.
Nella is also very experienced in the wonderfully entertaining art of lesbian fisting (and clearly very experienced in general, it's always a joy to watch her gently introduce a new more or less shy girl to girl on girl sex – on camera at least, as has happened several times at Sapphic Erotica), and while she unfortunately hasn't been on the receiving end at Sapphic Erotica and In Focus Girls yet – but "lends a hand" in many of their fisting scenes – she most certainly has at ALS Scan, on several occasions (a quick count shows at least around seven or eight ALS Scan fisting videos in my Nella collection), where she also happens to be one of the most popular and frequently returning girls.[/one_half]
[one_half_last]
As if watching Nella with another girl's entire hand buried in her clean shaven, well lubed pussy isn't already a wonderful sight, her orgasms absolutely have to be seen to be believed. Her entire slender body tends to go into convulsions, the most magnificent smile light up on her face, and on several occasions she has actually had tears in her eyes. Many of these East European babes really know how to enjoy lesbian sex on camera, but in my opinion extremely few are quite a match for Nella.
Around a year ago Nella finally got her own official site (she's still making regular visits to assorted other sites), which I reviewed a few months later. While some of the other sites mentioned above are still better sources of her fantastic lesbian videos, her own site is approaching a fairly decent size by now – and if you're interested in Nella herself, rather than merely her photo and video content, she's very often responding to feedback in the forum section of her site. This is also where she recently announced she got a boob job – something I immediately felt was a bit of a shame, considering her flawless body, but I guess I'll have to reserve judgement until she's shot some new content showing off her new tits. Hopefully it won't be more than a few weeks now.[/one_half_last]
Oooops, we counted six at the end. Nella was our sensual Bonus!