Please keep on being interested if you like Asians but are not sure you like urination. Original and beautiful Chinese girls are on these pages, many of them, almost uncountable, and you can ignore the pee pictures and still have a huge slurp of Asian of Hong Kong lovelies. On the other hand, if you like pissing, this selection gives you more than you usually get from "pee" sites. Every picture series shows full thrust gushing with the model's face also seen. For aficionados of peeing, this site is probably a must see.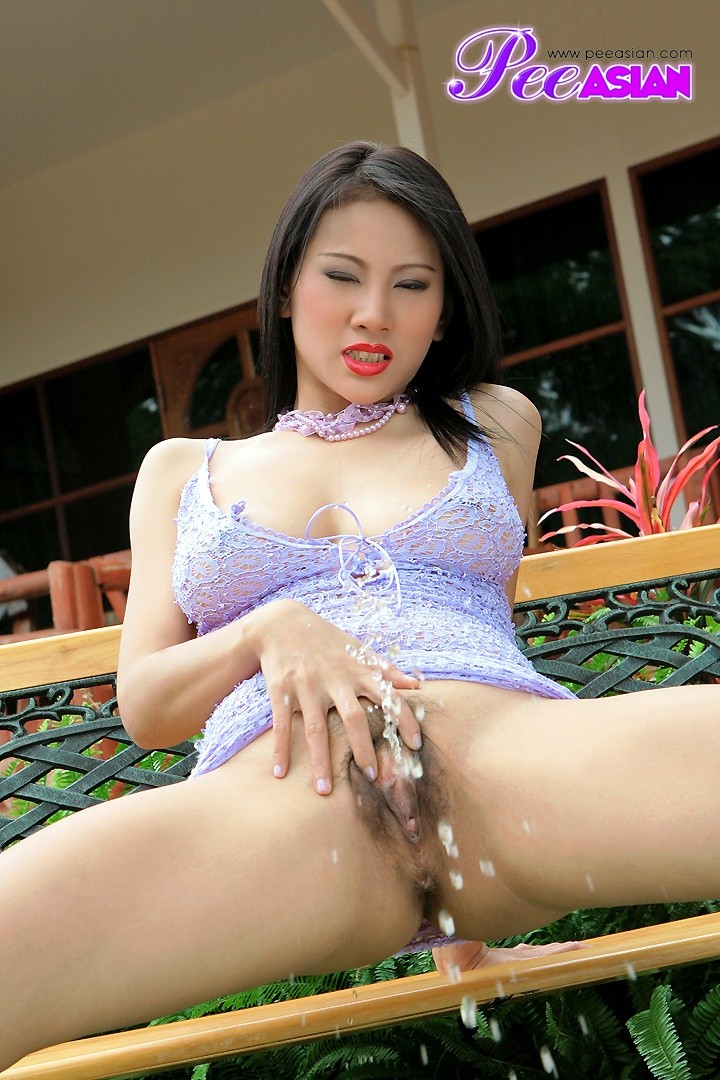 Pictures are the main feature of Pee Asians and there are enough for anybody who is interested, certainly for a month in the first instance. Each single model set is in the same format and contains unchanging features: No thumbnail pages, sets usually contain 31 images but occasionally many more (400+)[Yes, that's "many more" What gives?/Ed.]. Every set is of the same picture quality and they are often "High Key" or photographed outside. The models are stunningly lovely Asians, often with "take-your-eye-out" tits. All of them piss at full pressure, though often for only six images.
Best Asian Cams: Filipina Camgirls
Photosets: This is the most valuable feature of the site. It is big and reliable whereas the downloadable videos are as yet stuck in the Jurassic period. There are 13 categories which attempt to group the models' pictures by style, though they are all very similar. The categories are Sporty, Close-Up, Toilet, Model, Nude, Outdoor, Beauty, Teen, Bondage, Shower, Pantyhose, Voyeur and Uniform. As I say, the categories are almost a distraction and all the sets follow a formula.
Related: 88 Square Paysite Review
It would be a Babylonian labour to count the images. Lots of sets have 31 pictures but some have 200, 300 and nearly 400 (not many). Every set has 5 to 10 pictures of direct peeing – face visible, good stream. Unfortunately, the navigation features (see later) mean that it can take hours to find the pee pics in the larger sets. Secondly, in the "unfortunate comments" section, the photographers have often not read page 1 of the manual about contrast; too many pee pictures are shot against a highly lit background like white bathroom tiles. If pee is pale and so is the background, you can't see the action.
It is as if these guys are given a job description like "include 5 to 10 pictures of each model emptying their bladder", but with no advice about how to do it. The models smile inappropriately or look into space as if they were on a beach but hardly any of them look as if they are "into it." Having said this, the girls are nearly all beautiful and they do pee looking at the camera, too rare in too many pee sites. Videos: The videos I tried downloaded easily and successfully in WMV format but that is the last good thing you could say about them. The size, video and audio quality were so awful you would have to take an extra anti-depressant if you had been fool enough to waste you time downloading one. Other Features: The "What's New" feature guides you to the newer photosets and videos. It is efficient, with lists and pictures. Also, it reveals how slowly the site expands. It may now be big, but the average updates are 3 photographic sets and 2 "video clips" per week.
close up hairy genital
Navigation: In the Photo Section there are no thumbnail pages. With any set you get a "Promotional" picture for each model in the set plus a smaller picture of the first image. A drop-down feature enables flicking to and numbered image (without knowing what it is like). You might view the promo picture and love it and want it, but then take fifteen minutes to bloody find it. For a pee site they fail to identify where the pee pictures actually are.
On each set, there is a "First", "Next", "Previous" and "Last" feature, as well as a "Start/Stop" slide show offer (the latter is too slow to be interesting). On three different speeds and platforms I tried, all these features are unreliable. They either fail to work or are so slow they are not worth the bother. The photo part of the site badly needs thumbnail pages. If there are 200+ pictures and you are searching for particular images – pee pictures for instance – it takes ages.
PeeAsian is no longer online. Some images are available at this picture blow of Pee Asian Models. Continue at your own discretion.
One thought on "Pee Asian"
John Preston
November 26, 2014 at 5:24 pm
Just wanted to add a few observations on this site. We already have 2 other reviews by the folks who produced this site HKNude and Shaveasian. The HKNude site was pretty decent I thought, since Im not a pee guy I passed on this one and hence will not attempt to opine on its merits in the pee arena. Perhaps its not even an arena, I'm thinking a more of a shallow pool or trough.
However, I dont know why they didn't format this site like the HKNude one. No thumbs really hampers viewing the sets here. Although I admire the dynamic method they offer here to view the sets (its a small Flash powered box that you allows you to flip through each thumbnail, you click on the one you want to see and it opens in a new window) I would get tired out pretty fast going through an entire sites worth of photos that way. Granted, the pictures are really top-notchbig (8001200, every one of them), crisp and well posed. But at this point I have a pretty good idea which poses I want to see in a set and the best way to do that is an overview via thumbnails. Just too much work here. Okay, guess we pounded that point to death.
Wow, yeah, the peeing movies were really sub-par. Very grainy, bad sound and for the most part just videotaped photo-sessions. Which I really, really hate. Its fine to throw a handful of these on a site as Behind the Scenes extras but to base all your video content this way is a little cheesy. Still, there is a great deal of other video content here than just peeing, masturbation, Toys/Dildos, Hardcore, and Voyeur. Not knowing the mind of the pissing fan, I cant say that theyre even interested in those categories but they do add some value to your membership.
Still, there is a gargantuan back catalogue of material here. And I'm pretty sure that if you have a thing for Asian women and leaking you wont be too concerned about my carping over some navigation issues.