Sex in Japan is not just an expression of lust but a custom of rituals with a rich and long lasting historic culture. Dating back to the samurai and ninjas oral sex was a privilege of warriors following won battles. Nobody else was allowed to get this treat from female servants except for glorious warriors. Today's Fellatio Japan treatment sends us back in time when oral satisfaction was motivation for achieving greatness on the battlefield. And for those few who know how to find a greatly skilled Japanese love servant the tradition lives on, today.
The females are called "idols" because they show great skills and take pride in applying their services with great passion and they never quit. Achieving oral satisfaction for their men is their gratification. That's attitude deserving laudem. Put in simple words a guy has the honor to present himself in front of a pretty woman. She caresses, strokes, kisses, licks and sucks his penis from start until he comes either on her face or inside her mouth. There is no complaining like "why aren't you hard" or "why don't you come already?" These Japanese love servants are devoted to render their lip service until the end. This can take a pretty long time, up to 25 minutes. The setup is easy and so are the angles that are shot in quasi-pov. That means a photographer and a video camera are located behind the happy stunt-samurai. The view enjoys the face and the action of the lady. It almost looks real like a virtual reality porn movie. Desires are created for finding a woman who would do exactly as those fellatio queens from Japan.
List of All Models: Girls of Fellatio Japan
So far there are around 190 scenes online with 100 different models, many of whom are famous Japanese adult video stars aka JAV idols. Updates come with videos and high resolution pictorials in weekly manner. It's an amazingly simple setup with high quality execution. Overall, blowjobs are some the best and most memorable moments in everybody's sex life.
[one_third]
[/one_third]
[one_third]
[/one_third]
[one_third_last]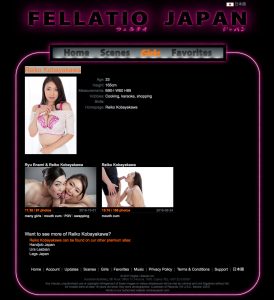 [/one_third_last]