Malloy Martini is a tall blonde girlfriend that loves to flirt with the camera. She's cute, she's seductive and she's the kind of girl you might take home to mom as long as your mom doesn't have access to the filthy content found on her website. She has appeared in Playboy and does all kinds of modeling so if you don't know her already, it is time to meet this steel-blue eyed sweetheart through her very own site.
Malloy seems like a very sincere type of girl and you will get to know her through her about me page, forumns, diary, webcam shows and you can contact her if you would like. From your very first visit, you will feel her sweet charm and sexy attitude come right to you by using her page to find what you need. The navigation is very simple, the galleries are easy to find. The only thing that bothered me was that I have to put in my login information to view each and every video. This is pretty standard, but it doesn't mean I have to like it. Other than that, the design and navigation is flawless.
As far as content is concerned, Malloy has over 34 picture galleries that average around 45 pics per set. The pictures are all top quality high resolution stills that are very professional and extremely hot. It doesn't matter what this girl wears, she pulls it off nicely. She also has 19 High quality videos for you to enjoy. They can be streamed directly from the site or downloaded in a great looking Window Media format. The videos are about 5 minutes each and are dubbed over with music. You should be aware that her content is all softcore petting and stripping, so don't expect to see any penetration on the site.
Malloy updates her site a couple of times a week, sometimes more and sometimes less. She is a bit inconsistent with updating, but you can't blame the girl because she has a busy schedule. On the up side, if you want to see Malloy wear a certain outfit you can actually buy it for her, send it to her address and she will take photographs in it just for you. Also, if you want to get to know her a little better, check out one of her scheduled web cam sessions. Go ahead and check her out, you know you want to.
Sorry, but Malloy no longer upkeeps her website. It is offline, now.
[one_fourth]
[/one_fourth]
[one_fourth]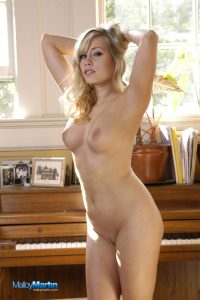 [/one_fourth]
[one_fourth]
[/one_fourth]
[one_fourth_last]
[/one_fourth_last]