The content on Ultimate Surrender is described as 'sexual wrestling', and it is indeed a curious hybrid of competitive wrestling and lesbian sex. The contests are serious in that the bouts are properly timed, umpired and scored, and the fighting is at least pseudo-genuine rather than entirely a pretext for the girls to grope at each other. Essentially, the action is violent but not vicious, and the lesbian element is always to the fore: as soon as a girl gets her opponent in a hold, she usually reaches straight for her tits or pussy (extra points are gained this way). There is a league format and relatively sophisticated stats analyses for the competitors.
Each contest is a self-styled 'event' preceded by lengthy interviews with the competitors. The wrestling itself consists of three rounds, the girls starting off wearing skimpy bikinis which are soon violently ripped off by their opponent leaving them fully naked. In the final scene the loser is subjected to the sexual domination of the winner, which usually consists of her being fucked with a strap-on. This does seem a little out of keeping with the tone of the preceding action, but we should not forget that the leading producer of extreme fetish content on the net is behind this site with women's fights.
In common with all the Kink sites the setup is highly professional, with the contests taking place in a purpose-built indoor wrestling arena complete with, for some of the fights, tiered seating for a proper live audience. Despite this effort, the location is somewhat reminiscent of a converted warehouse. The girls are ordinary porn stars rather than proper wrestlers who fancied showing off their moves naked. They're not all lookers by any means, and many are familiar from the other Kink sites.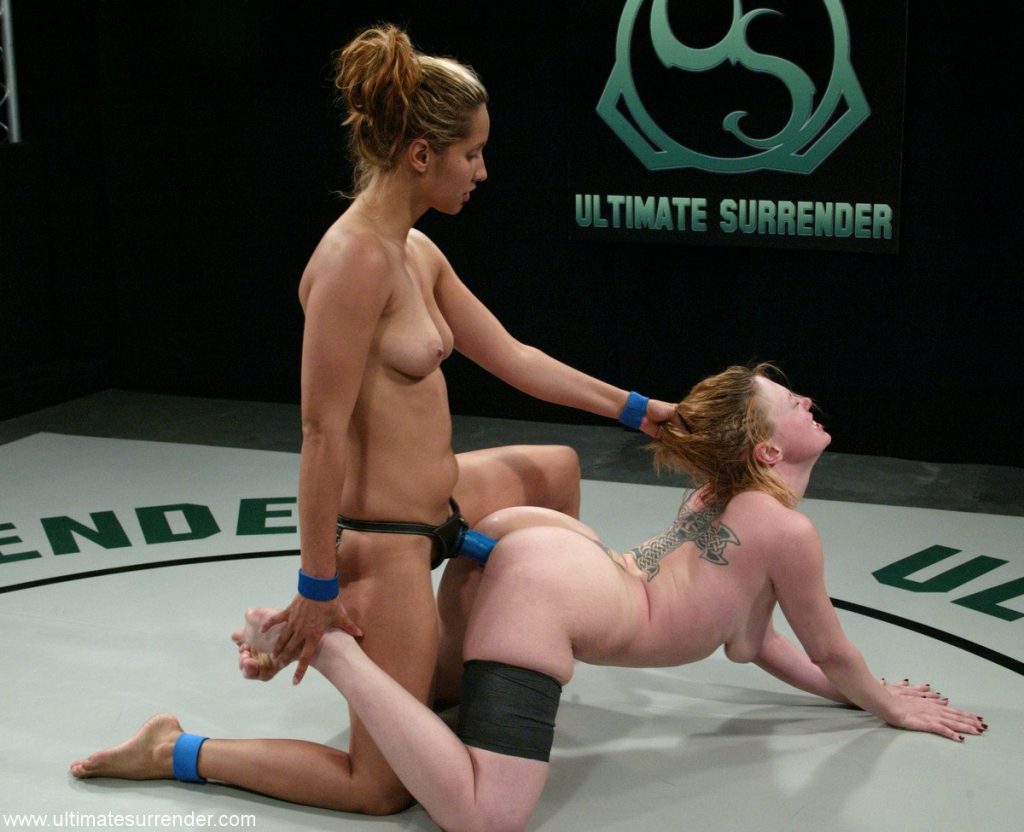 The standard of the video is high, particularly the high definition MP4 format which looks stunning. It's not possible to download the complete movie in many cases, though the scenes can be downloaded collectively in a ZIP file. The pictures are nice enough, but the video is the real attraction here I'd say. On balance Ultimate Surrender is very likely to please those looking for naked wrestling action. The authentic set-up and proper scoring and stats will appeal to those for whom the primary appeal is the wrestling, while the unhinged eroticism of the fights, the nudity levels and technical quality are sure to satisfy those less fussed by the sporting angle.
Visit: www.ultimatesurrender.com