Highly original, excellent quality and stunning French models who go all the way and beyond expectations. Explicite-Art is the work of John B. Root, director and photographer extraordinaire. We loved it when we first saw it and it's even better today with a complete new design. If you don't have time to browse around and you enjoy hardcore well scripted porn with some erotic softcore thrown in – we are sure this site will not disappoint. John and his team have done an excellent job redesigning the site. Its clean crisp lines sit well on the black background and the photos of the girls stand out to seductively lure you in.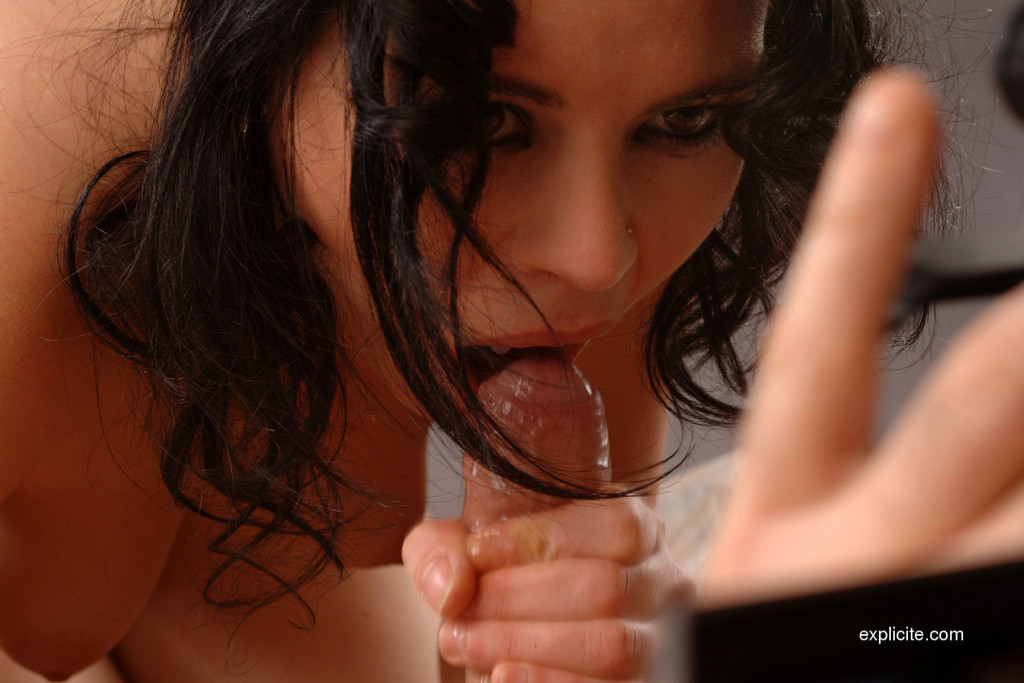 Gone are the old categories and in their place you get a choice of photos, videos, models or films as your starting point. Alternatively you can pick one of the recent updates or search the site by girl or activity. Wherever you start you will get a list of thumbnailed galleries/videos that meet your criteria. Every shoot and girl now gets rated by the members to give you an idea of what your fellow surfers think is hot. This is an excellent way to begin your browsing of this great site. Another innovation is the temperature gauge – a cool little icon that gives you an idea of how hot/hardcore the shoot is. From the sadly brief time we have to visit its clear that there are so many great shoots you will find it hard to choose. In previous reviews we loved the photo quality but the videos were not so good. Well that's all changed. The newer videos are high quality divx and in a single big download file. In fact all the videos are available in a choice of resolutions and every one is just a single file to download. (Obviously its not possible to re-shoot the older videos in HD ). The photos are as ever mouth-wateringly superb and can be easily download in neat zip files or you can just browse through them online. So to summarize – the site design is excellent, the navigation is totally consistent and easy to use and the user interface works very well.
But enough of the technical bullshit – you want to know if there is any hot hardcore porn. Well we are very pleased to say its all here and everything is shot and edited by John himself. The models are a steamy mixture of professionals and amateurs, good looking and happy. It is so refreshing to find pictures of women smiling while getting stuffed up the ass, fisted, whipped etc. (We have a small request of Explicite-art – guys how about some bio details of your great looking girls to add to let us get a bit more intimate with them!). JR has a particular fascination for ass shots – usually with suitable insertions! The site features many Eurasians and Arabic women, i.e. Sharon Lee.
We have no hesitation in recommending Explicite-Art as the most entertaining and original hardcore site on the net. It is unique – not an eastern European clone or an American stereo-typed porn star site. Its got a brilliant new design, is excellent value for money and most of all our surfers keep coming back to it for more. So hurry over to porn sans frontiers – Explicite-Art.
All the movies are 100% original, you will see them nowhere else, and the same can be said of the girls. Remember this site is French. The French are very good at erotic, explicit sex films that are far more stimulating than your average western mass produced bonk in every orifice for 30 mins and go home without breaking into a sweat. You still get all the action but its better shot, scripted and more realistic. By the way – the dialogue is mostly French – probably the world's most sexual language – especially if you can't understand it. The language of sex is international so this is no real issue and some of the videos are now subtitled. To give you an idea of the content here is a list of the activities in the search function from lesbo to bisex – which we are sure you will agree is an entertaining mix.It does not end there- every week you get six full updates with a mix of photos and videos. There is a hot live cam feature and you can buy everything in the store. The site also has John B Root's porn films. These are full length films that he has produced and available nowhere else on the net. They show the progression of his work from the first movie – Cyberix through to the most recent Inkorrektes. Clearly Cyberix which was shot in 1996 is not of the same quality as today's productions and its interesting to see how far the industry has come is a few short years. What next? We are sure John will have a few sensational ideas.
Visit Webpage: www.explicite-art.com