In short: P. Burgos Street is expensive, but many good looking women. Some guys circumvent the high prices by getting girls' phone number and fucking her next day, before she goes to work = no ladies drinks, no barfine. If manager finds out, girl most probably loses her job. Be discreet. Burgos Street had the reputation of the best looking girls, but with increased popularity, management increased pricing continually until it has become a shadow of its former self. The best looking girls tag is possibly stretching things nowadays. Certainly not what it used to be (popularity and 'looks'). Pushy girls and mama-sans, and high prices has tempered this P. Burgos St Makati area compared to EDSA. Although EDSA is now edging up towards P.Burgos prices. Angeles City, 2 hrs yaxi drive away has much more choice and costs significantly less (see separate page for Angeles).
This area is not so busy nowadays. Not many punters as in days of yore, when there were reasonable prices = management and girls become more 'commercial' ("buy me drink, buy me drink" etc etc. The only reason I go to P. Burgos is just to confirm what I say here on this page is correct. Action starts around 11pm onwards. Do not arrive early (P. Burgos). Not so popular nowadays due mainly to overpricing and even the 'beauty' aspects has declined too. With a drop in customer numbers the SE Asian mentality kicks in, wherein they increase prices to try and get the same cash flow they had with previous higher number of customers. Consequently customer numbers dip even further. This vicious circle continues, until some one wakes up.
Whilst this area has been dipping in popularity (with budget bangers, but not with the big spenders) and many Filipina working on Asian Babe Cams rather than a bar, EDSA (see below), the only other really 'dedicated' GoGo Bar scene, has been rising a little in popularity. And La Cafe Ermita Manila (see below) and Angeles City bar scenes have been growing in popularity. Price is King. At La Cafe (not a GoGo Bar) girls can be relatively attractive/pretty upstairs (not so much downstairs, but exceptions can be found) and also Angeles. So why put up with the crap at places like P. Burgos? Some guys like places where prices are high and service/girls are crap, thats why.
Your Beer: Anything from P150 and up (exceptions during happy hour/s) ; Ladies Drink – to P390 is not unusual, especially if your a newbie; Bar Fine: Full sex for P1500/2500 and up to P3500 (less ladies drinks already bought) at some places, small number P1500 for bar fine; Tip for the girl after the deed/s Short Time/Long Time : Best to ask girl what she is expecting before you pay the bar fine. Can be as much as P2000 or more (tip). By comparison Angeles on average: P1300/1800 bar fine normally, plus non obligatory tip of P3/500 the next morning ! So, can be as cheap as P1300 at Angeles. Nothing wrong with the girls either. See seperate Angeles Nightlife cliffnotes.
At Burgos, clarify when you are talking about prices whether it is ST (Short Time) or LT (Long Time) she has in mind. Suggest you negotiate for ST, cause even though you pay longtime, many of the girls will do a runner after 1 pop. Very bad value, when the author of this info gets respectable looking providers for P1000/1500 all up (no need for additional 'tip', no barfine, no ladies drinks) elsewhere in Phills (read the website). And don't forget, try and avoid a woman with an 'attitude'. The kind of attitude that will add up to bad value as the night progresses. If it progresses at all they might do a runner after 1 pop. May the luck of the Irish be with you!
Because P. Burgos St is trying to do the impossible, that is, charge high prices for girls/service, that is available elsewhere for less, Burgos GoGo Bars reputation, or their very existence, comes and goes. Hence, not much point in listing a lot of bars. Three most talked about and popular P. Burgos bars right now:
Rogues: This one has become popular lately cause of its more reasonable prices. Voted best bar by most. Barfines in the vicinity of P1500/1800, if your lucky. LT (all night, if your lucky) P2000/2500 Suggest you try it first, and then it might be all down hill after that. Rogues is more of a barfine place. BJ's available on the premises, and possibly public too. Jools below is more of a perv on show girls type of place.
Jools: Located at the top end of P. Burgos St. This is principally, a top Show Place, it's not a GoGo bar as we know them. Rogues and Bottoms are used more for barfining girls, not for shows. Normally no strip in this joint, but scantily clad ladies in shows, yes. Your Drink P150 (beer) and Ladies Drink (P350) relatively expensive. Not all of the girls are of the 'take out' variety, so don't spend heaps on Ladies Drinks without asking re her availability first. See Average Prices above for a guide. Suggest you check this one out, one drink will not break the bank. My last trip: No cover charge, no pushing for Ladies Drinks, excellent, repeat, excellent floor show which starts around 10pm. Arrive 9/9.30pm for good seat. Show comes on for 20/30 mins (scantily dressed normally), fully dressed pretty p4p girls dance for about 20 mins, then show (different to previous one) comes on. On and off all night. Excellent. Good for perving. Take away show girls? Very doubtful, if not impossible. Other fully dressed girls can take out (not cheap).
Bottoms UP: Usually lots of girls. Normally a busy bar (good sign). Bar fine P3900 minus any ladies drinks already bought. LT (all night) P3000 Tip expected. Possibility of a BJ in the booth. Nice looking girls. Possibly the best in P.Burgos.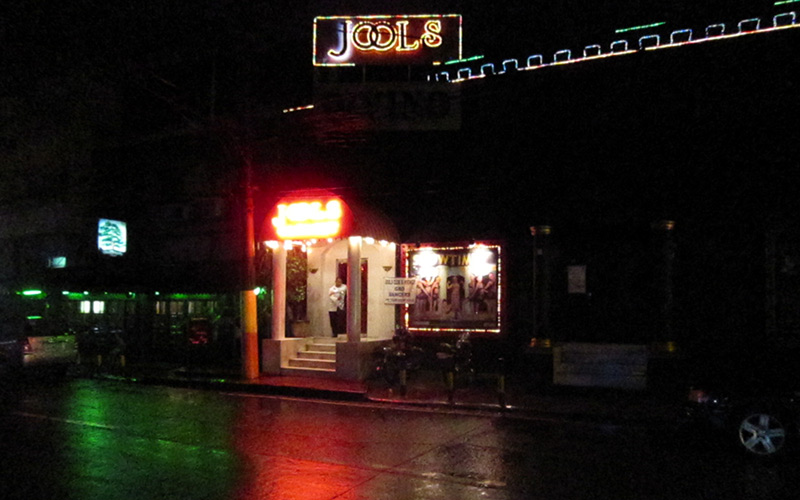 There are a lot more Bars in this area of P. Burgos Street. Some of which you might prefer, over and above the three listed above Stardust or is it Starlight ? (BF2500); Kojax (BF2600 + P2500 for LT); Ringside; Bourbon St; "Bandito" recently refurbished, BF2100 plus tip girl P2/3000. Reportedly relaxed laid back bar. There's Moulin Rouge, Wow Wow Wow, Dimples, High Heels (girls grope ya), Plan B bar (opposite Bottoms); Montana, and others. Example Wild West Bar Fine P1500 plus tip for LT next morning, girls expect about P3000. Start with 'top 3', is my suggestion.
Whilst walking around, beware of the the ladyboys/bayuts (transvestites). Do not walk down empty side streets/alleyways and do not accept an invitation from anyone (ladyboys included) to go somewhere with them (alleyway etc). Female street walkers are a bit scarce at the moment (Police actions).
One beer to check a joint out, will not break the bank. If it's gogo and Manila , EDSA is not so expensive and is more convenient to reco'd Ermita area (La Cafe/Accommodation). If its freelancers and Manila, La Cafe or Havana Cafe (see below for info on these places). Time is precious. P. Burgos really doesnt fire until say 11pm onwards. You might think the prices at P. Burgos are peanuts, and the girls beautiful. You'll never know, if ya don't give it a go.
It's possible to make arrangements with the GoGo girl for the next day. No bar gine and possibly a discounted rate. Don't let the Management catch with this, though. The girl might suffer if management finds out. Swap phone numbers secretly. There are some short time hotels in P. Burgos area. Ask girl of choice which she prefers, check price beforehand, otherwise she might be trying to get a hefty commission from Hotel. See ST Hotel info for Ermita area down below for a guide on prices. Apparently, freelancers operate out of Cafe Cubana in Bellagio Hotel on Burgos St. and the nearby Jekkel and Hide Pub … and a few ladyboys on street corners.