Like Red Light District, Vouyer Media is one of studios that's back at VideoBox after a very long absence (make sure you look under Vouyer Productions as well as Vouyer Media if you want all the movies listed at VideoBox), and while some of the movies, including In Thru The Back Door, are a few years old, these two studios only rarely disappoint. And that goes for the title at hand as well. The now ultra popular Sasha Grey started her career back in 2006, which means her scene on In Thru The Back Door is from back when she was only 18, and as her performance here shows, she certainly knew how to put on a good show already back then, looking hot as hell and putting mouth, pussy and ass to excellent use. And not just on the lucky cock but several toys as well, including doing a DP with a thick double ended dildo.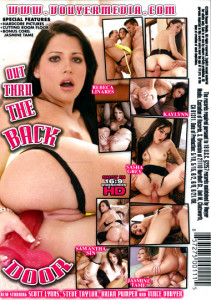 Scene 2 doesn't have any anal, betraying the title of the DVD, but Kaylenn, who's so damn hot I can't believe I haven't noticed her before (I'll start making up for that right away since they've got 50 of her scenes at VideoBox), certainly doesn't look half bad with a huge black cock buried in her pussy. And she's back for a second round with a big white cock in scene 3, continuing directly from the previous one, and this time her lovely round ass does get thoroughly stuffed. As great as Sasha Grey and Kaylynn were, for me the gorgeous Rebecca Linares steals the show in scene 4. Joined by two guys she gets a proper workover with lots of anal, anal dildos and double penetration, including a brief standing DP. And as always she does it all while looking sexy and cute as hell. The remaining two scenes, a DP threesome with Jasmine Tame and a one-on-one anal scene with Samantha Sin are great as well, Jasmine in particular arguably gets a harder "workout" than any of the other girls with more DP action than Rebecca Linares, including a few minutes where a large, black dildo fills her pussy (after having spent some time in her ass first) while she's got a cock buried in her ass.
Our pornstar fanblog: Sasha Grey
Nothing to remark here, negatively. In Thru the Back Door is a really great DVD, and even the last two scenes, which I had sort of expected to be a bit run-of-the-mill based on the screenshots alone, turned out to be quite a bit better than merely that. Hence my decision to go with a 95 score, even though I had estimated this would "only" be a 90 point score.
In Thru The Back Door
6 scenes + behind the scenes footage, (approx. 190 minutes total)
Starring: Sasha Grey, Kaylynn, Rebecca Linares, Jasmine Tame, Samantha Sin
Studio: Vouyer Media
Production year: 2006