With her surly countenance, dark hair, tattoos and piercings, Jennique Adams is in many ways the typical Goth chick. And while I'm not sure to what extent gigantic tits fit the Goth stereotype, but heavens above does this girl have a pair. So big they're probably illegal in various countries. If Jennique flashed you in her car, causing you to career into a lamppost and die, it would probably still be worth it. Apparently she grew up in Germany and loves the outdoors (quite right too, it's an exquisitely beautiful country). Those breasts alone should make this Teutonic export's solo site well worth a look.
Related: David Nudes Review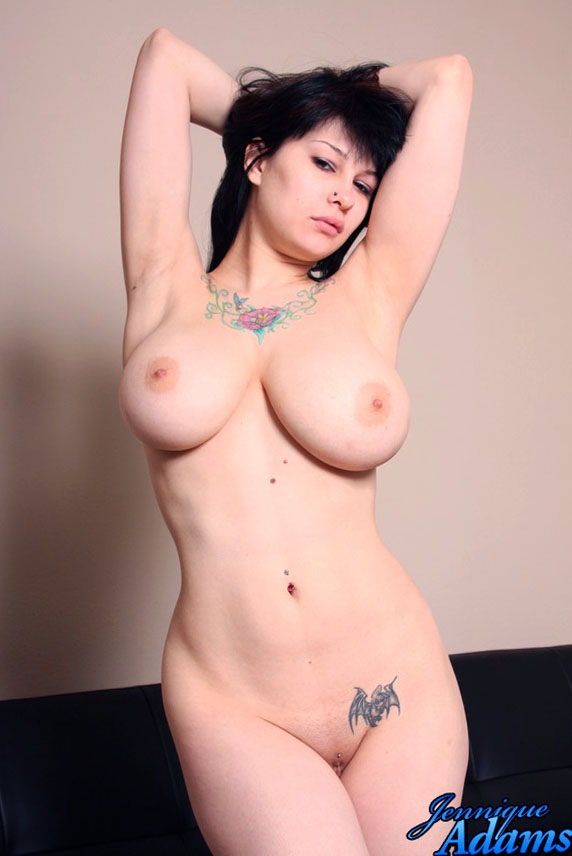 If you can manage to glance that far up, you'll see that Jennique has a distinctive flower tattoo across the top of her chest that suggests she's not the sort of Goth who'd sooner score 'Satan' into her arm with a penknife than eat breakfast. Jennique comes across as being a lot of fun, in fact. Thankfully her collection is quite a personal one rather than just straight glamour work, so we see Jennique masturbating in the car, taking a sexy shower, stripping off in the kitchen and messing about on the rocks in some barren part of the country amongst other things.
Despite the candid style the photos are picture-perfect 1500-pixel shots, and there are plenty of images in each gallery. Jennique reserves all of the explicit action for the video section, where you'll find a few lesbian scenes and some blowjobs and handjobs too. Most of the clips are solo ones, however, and predictably many of them focus almost entirely on Jennique playing with those incredible mammaries of hers. And if you fancy gawping at some larger than life breasticles, many of the video clips are offered in a superlative high definition resolution.
Related: Score HD Review

Jennique updates her online diary regularly, and although the posts are usually short and sweet at least they are usually related to her personal life rather than simply letting members know that 'photoshoot #271 is now online'. The site is no oil painting, and most of the various categories of the content are currently empty, as is the section for bonus sites. But overall I've seen plenty worse solo sites, and this sexy Goth certainly cast a spell over me, though to what extent I was seduced by high def videos of her staggering knockers I wouldn't like to admit.
We are sorry to report jenniqueadams.com is no longer in operation.