Most of the focus seems to be shining on Kat Gutierrez as one of the major Import Icons models. Her exotic mix of half American half Filipino descent will leave you gasping. If I had to critique her body, I wouldn't find a single flaw about her. Stunning in my eyes. Yes ok, weve established her beauty transcends time but is her site actually any good? Well if it's similar to the other import icon models (Jenny Chu and Katherine Thom), this site will be a ripper. So let's take a squiz shall we. First I must introduce the subject matter at hand:
The first place to start is the Signature Collection. Here we see Kat in a large selection of different environments from the kitchen to outside fun in the sun. What caught my eye was the increased amount of girl/girl sets compared to Jenny's and Katherine's site. Girl/Girl sets = instant turn-on and I'm sure most viewers would get a kick out of them. Just to see another girl tug at her panties is good enough for me. Envisage that or just look below for some inspiration: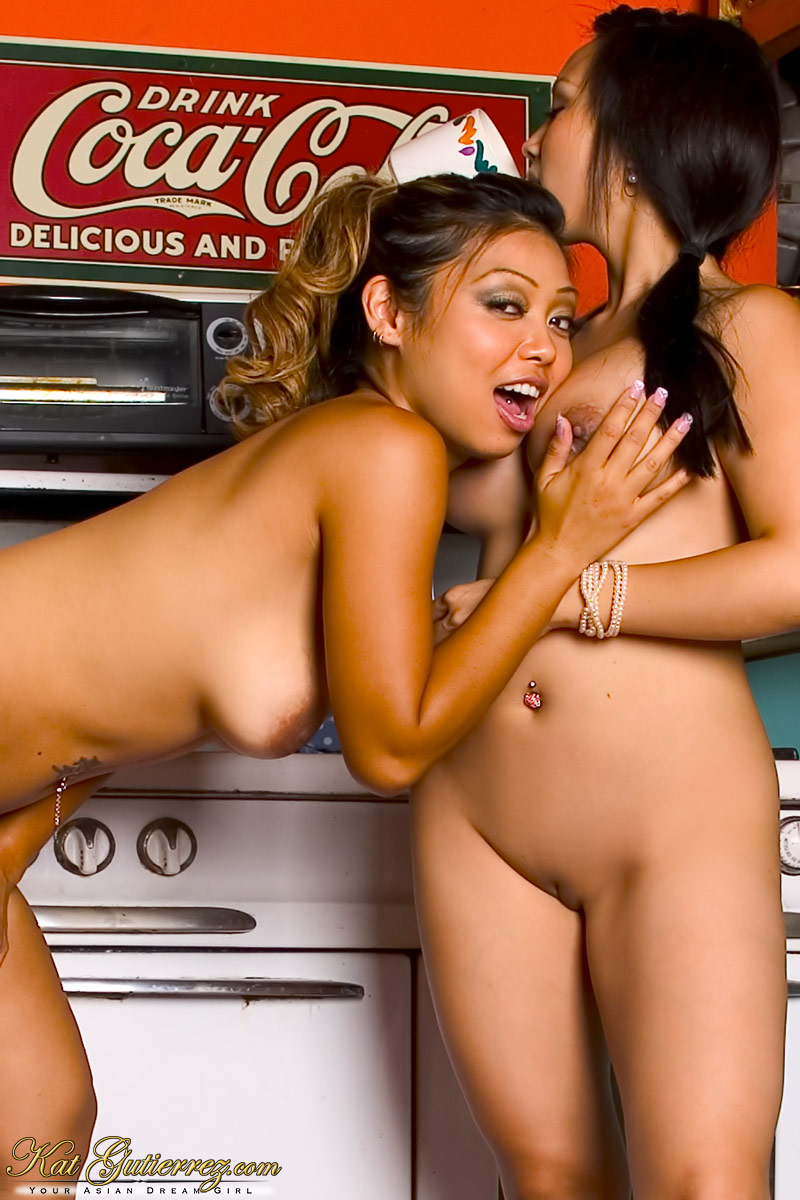 Inside the signature collection, is also the scrapbook. In the scrapbook you will find material containing gogo dancing, import car shows, candids, club appearances and much more. If you think the photos do not have any depth, think again we even see Kat at a speed-dating event in one of the galleries! Oh, and if your wondering what the hell gogo dancing is, here is a brief explanation. Basically, they are dancers that perform at night clubs/parties/etc in colourful bright costumes. Keep scrolling down and you will also notice a mini archive of hand-picked modelling highlights. All photos are consistent in quality (full of colour and vibrancy) and 1200800 or thereabouts.
More about Asian Models: Asian Amateurs Live
The videos will not dishearten you either. 640480 full screen high quality videos to enjoy and theres over 40 of them at present. The girl/girl clips are great even though its the lightest softcore material you will ever see. Some light caressing and boob touching is about as far as it goes so don't expect fisting or anything.  There's plenty of Kat's girlfriends to keep your company from Jenny Chu herself to Arielle Lee, just like the girls from legendary ModFX Models. Each girlfriend has one gallery which can also be viewed as a slideshow. As we draw to a close, let's take a peek at her Kat's blog. She seems to be a bit more busy than the others going by the last diary entry (20 November 2006) and there doesn't seem to be much activity in this area which is not really a blog, but more forum-based. Anyway, you can find things like her upcoming schedules so take a look if you are curious.
Extras? Shitloads! Extra bonus footage, behind the scenes, candid shots and galleries. This area is bursting at the seams! A well-rounded site jam-packed with exclusive material. Again, $14.95 for the first month and $12.95 every month after that, or $34.95 for the first 90 days.
Unfortunately, Miss Gutierrez has closed her site and it is no longer available. Her images and free galleries can still be found on various image hosting tanks and photo sharing sites.