Only Blow Job has been live since 2001 and getting better as the years go by largely due to better cameras but we think the chicks are hotter as well. Once upon a time Denys Defrancesco used to shoot classic photos for Penthouse and Hustler until he decided to make his fortune from his own sites. The quality is excellent and the site is mostly about blowjobs although very occasionally they do get carried away and stick it in the wrong hole. There are all sorts of shoots with multiple girls and studs as well as the usual boy with huge dick meets girl with big mouth action. Highly recommended for all cock sucking lovers.
They shot their loads of cum in my mouth and all over my face. I sucked on their cocks one by one with cum dripping from my mouth and chin.
Exclusive models: The site has a professional look and feel and navigation is by model name or by calendar. For each model there is a list of all the galleries she stars in split by video or photos. The videos come in multiple formats and as well as small chunks you can now download the full movie in one go. Quality is very good for the recent sets but clearly the five year old ones are somewhat less detailed. The photos come in three different sizes include large and highly detailed and can be downloaded via zip files. File names are numeric but at least they are unique. An interesting feature of the more recent shoots is a very detailed description by the model of the action – for example " Charlie's friend JJ was sitting on the sofa and we were sitting on the back, Charlie began touching and rubbing my legs and tits and then he got down on his knees. He lifted my skirt and started licking my pussy and I leaned back and started stoking JJ's cock and then he pulled it out and I started sucking and licking him all over. I got into Doggy and sucked his cock and balls and then I opened up wide and Deep throated his cock as Charlie continued licking my pussy all over, from top to bottom. Charlie slipped his finger inside my pussy and started licking my ass hole, teasing both my holes at once and making me hot and wet. Charlie pulled my panties down and JJ unfastened my skirt". That's just a small section from one movie. So I guess you better find the tissue box now.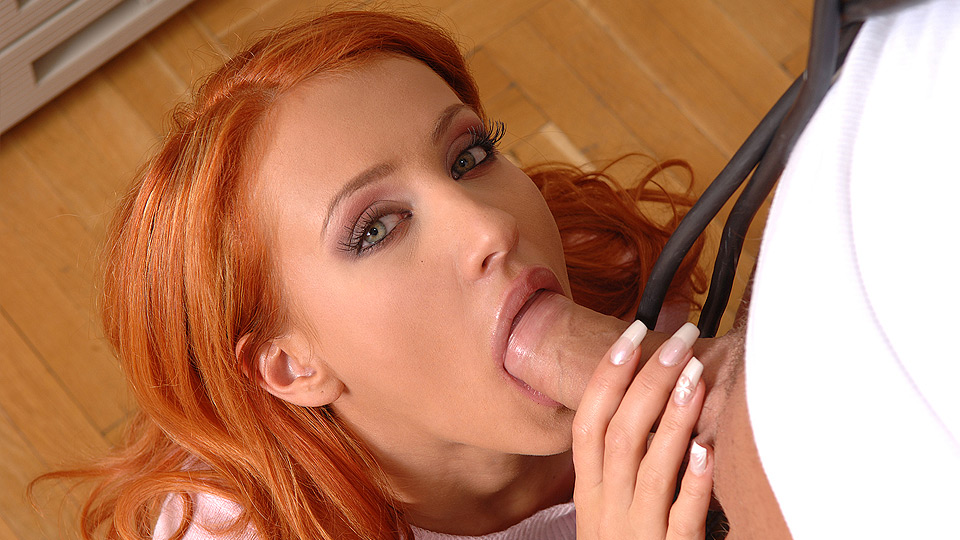 Currently there are over 1000 original full length video sets, each with around 100 original photos.
Click to view fullsize screenshot (may take a few seconds to load). The content is an interesting mix. You get the standard blowjob site boy with big dick meets hungry girl action but you also get two guys with a girl and two girls with a guy and even group action. Together with lots of different locations, including outdoor shoots, this makes for much more interest and is very welcome. A site like this needs really beautiful willing women (or else ugly sluts). Happily, we can report over 200 fair ladies from Eastern Europe expose their gorgeous bodies and wrap their "oral holes" -guess that's a mouth then – round some very lucky pricks. Most of them are escorts and sex workers. They do it like they really enjoy it and there are plenty of sticky close up money shots to prove it. There is also a very interesting, if tiny, blowjob comic section that has nicely animated cartoons. If enough of us say we like it they will make some more. However the main action is the exclusive hi definition video and its excellent.
Overall Only Blow Job is an excellent original, blow job porn site. The quality is great, the women are great, there is plenty of content and the price is quite small. So what are you waiting for.
Publisher's call out: What makes OnlyBlowJob.com better than the rest? The fact that it is 100% exclusive oral action videos shot in the DDF studios by Denys and his staff and delivered in high res pictures and crystal clear video clips. If you love to see these cock hungry girls digging in with the gusto of gluttons then check out the action at Onlyblowjob.com
Enter here: Only Blowjob