Milf Madness is a Zero Tolerance compilation DVD with no fewer than 14 milf scenes, seven of them one on one anal scenes, one of them (with milf hottie Lisa Ann) a "basic" one on one scene with no anal and the rest group scenes with either two girls on one guy or two or more guys on one girl (with double penetration in all the three latter, including double anal in Mandy Bright's scene). I obviously won't go into details about a massive four hours (ZTOD once again lists a wildly inaccurate run time for some reason) of video content here, but let's just say it's pretty much all up to the usual high and entertaining standards from this studio. In fact there wasn't a single scene on Milf Madness that didn't seem recommendable, though I did skip fairly quickly through some of them. If I had to pick out a few favourites it would probably have to be Vicky Vette in scene one because, well, it's Vicky Vette, the most beautiful milf in the business in my opinion, and always up for some great anal action.
Find your own erotic dreams in German Brothels.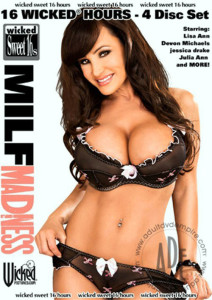 Devon Michaels and Holly Body team up for a fantastic threesome with a very lucky guy in scene 10, and though large, fake tits aren't always my cup of tea, the pairs on these two ladies just work for me. Two of the three DP scenes, with Mandy Bright and Janet, also go on my list, but as much as I would like to add scene six with Shy Love and Nina Dolci to said list as well, there's unfortunately a bit too much pussy licking there for my taste, something that, for some reason, is always a major turn off for me to watch (guy/girl, I love it in lesbian videos), and it's difficult to skip past here. Additionally Lisa Ann doesn't do a bad job in the final scene. No anal is a bit of a let down for me (she has only done one anal scene in her long career, also available at ZTOD in Ass Cleavage 8), but the net outfit does sort of help make up for that. Oh, and Anna Nova is always great to watch. So basically there's really a lot of good stuff on this DVD.
As so often in milf movies, a few of the ladies look perhaps a tad too young to really seem suitable for this category.
Milf Madness
14 scenes, (approx. 241 minutes total)
Starring: Vicky Vette, Felicia Fox, Anna Nova, Shy Love, Nina Dolci, Sharon Wild, Mandy Bright, Harley Davis, Chloe Dior, Nomi, Roxanne Hall, Janet, Judy White, Devon Michaels, Holly Body, Karina, Lisa Ann
Studio: Zero Tolerance
Production year: 2008